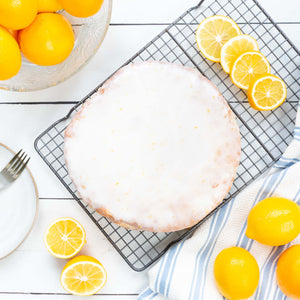 People Love Us
Excellent
We had this after our Christmas dinner. It was a huge hit. Our family loves this cake! I will definitely order it again. The perfect combination of tart & sweet. You've simply got to try it.
by Deborah W.
Amazing Cake
This is an amazing cake and the flavor is not overwhelming. It's perfect all around.
Meyer lemon cake
Great, even without the icing.
Unfortunate Meyer Lemon Cake experience
The cake arrived swiftly but ten days before Christmas Eve when we were serving it. We left it wrapped tightly in plastic as it came. On Christmas eve i made the frosting and followed the directions . ( the lemons that had arrived in the box packaging had frozen and thawed so were squishy so i had to toss them and use some that we had) I was excited to try the dessert with our famialy after dinner. The cake was dry and crumbly. I am sorry this was our experience. We spent nearly 90.00 to order this cake.