Community Supported Agriculture
Enjoy the sweetest fruit available and join the movement of conscious consumers looking to connect directly with their food source with a membership to our Community Supported Agriculture (CSA) program. As a member of our CSA program, an organic mixed fruit box is delivered to a community pick-up location near you. Contents change with the seasons, so you'll always get what is fresh and full of flavor while building a vibrant local food community.

Since we are experts in growing fruit, we leave vegetable production to our favorite Bay Area farmer friends and offer a vibrantly fresh seasonal organic mixed vegetable box in addition to our fruit subscriptions.
Join Now
Amazing Value 
CSA Members utilize community deliveries and enjoy a more economical option of receiving our fruit. Community pick-up locations throughout the Bay Area are hosted by generous residents, businesses, and schools committed to building a more resilient local food system.
Flexible Membership Plans
Joining our CSA is free! We offer multiple box sizes and subscription plans with weekly and bi-weekly delivery options. Members can pay weekly or in installments for additional savings. Vacation holds are available for every subscription type.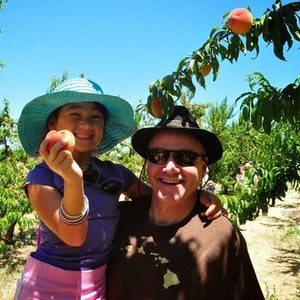 Forge A Relationship 
Joining our CSA is a great way to forge a relationship with our farm. As a member, you'll receive a weekly newsletter with in-depth information on what regenerative organic farming looks like in action, recipes, and variety descriptions of the fruits included in your box.
Fight Food Waste 
CSA members are partners in our mission to eliminate food waste by enjoying fruit that is too ripe to withstand shipping or that has cosmetic imperfections not accepted in traditional retail channels. 
Curated Farm Shop 
Members can add to their fruit delivery with handmade items from our Farm Kitchen like our fruit conserves, pastry, granola, and more. We partner with the Bay Area's best food producers to offer high-quality food staples like pasture-raised eggs, heirloom beans, and award-winning cheeses.