People Love Us
Absolutely delicious!
We loved every bite of these fantastic cookies, and would be hard-pressed to pick a favorite! Each had exceptional flavor, and tasted not only delicious but wholesome--none of the artificial taste you often get with cookies. Highly recommend this trio box for yourself or as a gift--really wonderful!
by Steve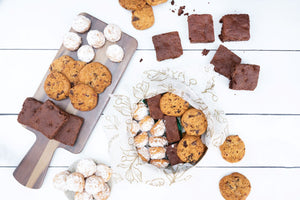 This was a gift so I can't review it
Gift for Someone
Got this as a gift for someone. They loved the brownies and cookies. Arrived on time as well
The Tin of Cookies is THE BEST
I'm a regular Frog Hollow customer but have never tasted the cookies. Lucky me! A friend sent a holiday gift of the Cookie Assortment Tin. We devoured them. I love that Frog Hollow fruits fine their way into each of the cookies…subtle and so so tasty. I've since sent the Assortment Tin and gifts to many on my list. YUM.
These were a gift for my mom, and she was delighted. I