People Love Us
Summer in a jar
A fabulously perfect sweet marmalade with the gentle sour of Meyer lemons. I love this marmalade and I'm finding lots of uses for it aside from toast: in sandwiches, on chicken - I need to order often to keep it plentiful on my shelf!
by Shane R.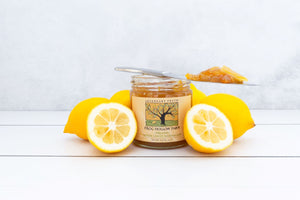 Best marmalade I've tasted to date!
Best Marmalade I've tasted so far. Worth the price.
Best darn marmalade
I ran out and tried another common marmalade, I ate 3 times as much and still not enough flavor. I'm committed to Frog Hollow!
Love this marmalade!
The Meyer Lemon Marmalade is delicious! I've given several jars as gifts and everyone raves.
unusual and delicious tart and sweet