People Love Us
Perfect on a rainy day!
The Mushroom and Leek Empanadas are the perfect lunch on a rainy day. They are so cozy and comforting after they come out piping hot from the oven —my whole family LOVES them.
by Carol S.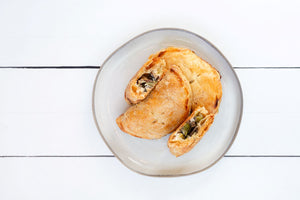 How Different & Delicious
But it's hard to let them cool before I tear into one!!!
What a special offering, especially if one wants to serve to guests.
Wife's a vegetarian and she loves them.
Simply AMAZING
These are a family favorite and requested by my adult children as their birthday gift! And I love that it reminds them that they should move back to the SF Bay area :)) so that they can get Frog Hollow at the Ferry Building!!
Amazed Me!
I've never made my own empanadas and never will, with these available. The crust was flaky, really flaky. Leeks and mushrooms are a lovely vegetable combo. Did an egg wash and baked at 400 degrees per side. Thank you for sticking the landing on these!