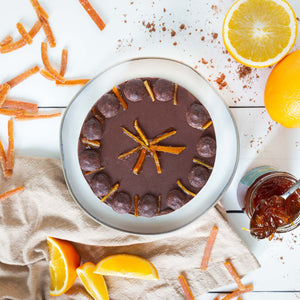 Chocolate cake
Was soo good! Hope hou have it again
Utterly delicious!`
The whole family enjoyed it!
Chocolate Marmalade Cake
I ordered this cake for my dear husbands 75th Birthday and he Loves it! Best cake he's had since his mother made birthday cakes for him as a boy! It's not too sweet, which he loves, and the hint of coffee is wonderful! He loves coffee! He loves marmalade with lots of candied peel, and this was perfect! Thank you for making this wonderful cake! It arrived perfect and he couldn't be happier! Many happy days forward!
Organic Mom
Best chocolate cake! A perfect combination of orange and chocolate!
Chocolate Delight
The cake was super chocolate with a great touch of orange in the middle.