People Love Us
Perfect White Peaches
I LOVED the Galaxy White Peaches. They arrived wrapped individually. The peaches were perfect, so sweet with a perfect texture. I would have bought more but their season is short and they were no longer available. Yum, yum, yum!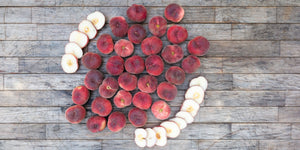 Galaxy White Peaches
Bought several times, excellent flavor!
MK
Baby white peaches
Best peaches I've ever had! Tiny yet full of flavor- no mush! A mouthful of absolute delight. Lucky am I to have discovered Frog Hollow Farm. Worth the money as there is no comparison.
Unique delight
They were the best peaches I've ever had. Tiny little gems, every one sweet with a nice firm flesh. I will definitely indulge in these again!
Perfect.
These arrived right on my birthday (today). So... you know a girl had to sample one.... and oh my spirits, this was so fragrant and had a smooth, mellow sweetness. Very fortunate to have been able to purchase this!
Delicious!
These are adorable mini peaches with huge flavor! We will order again!