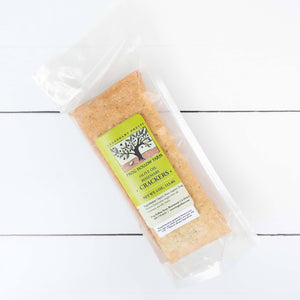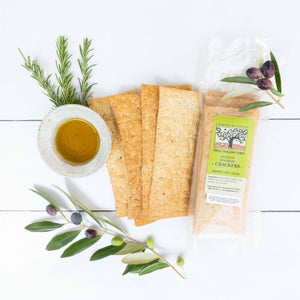 People Love Us
Delicious and flaky
Really impressed by the freshness of these wonderful crackers. Herbaceous, flaky and a wonderful richness that really complements soft cheeses or spreads. Great addition to my pantry!
by Kelley O.
Light and delicious
These tasty crackers are healthful and go with anything - cheese, olives, spreads, etc.. They are also exquisite just plain and on their own.
Amazing Crackers
These olive oil crackers are amazing. Light, crisp, and with a perfectly delicate flavor balance. Delicious on their own or with cheese, etc. Thank you for making them!
Olive Oil Rosemary Crackers
These crackers are delicious, either eaten alone or with something spread on top. The taste is subtle, olive and just a hint of Rosemary, a perfect combination.
Love these crackers
Wish yay would ship in a more environmentally stable packing
The best!!
Crackers are addictive. They are delicious with everything, even by themselves.