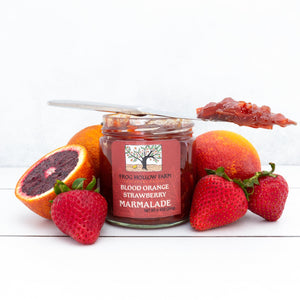 People Love Us
Marvelous Marmalade
The balance of blood orange and strawberry is perfect! Soo good on an English muffin or even on crackers with a dollop of peanut butter.
by Tracy T.
Great marmalade
I love marmalade and this has to be the best ever!
Yumminess in a Jar
All Frog Hollow foods are fabulous. The Blood Orange & Strawberry Marmalade takes this to a new level. Great on so many things but extra special in the thumb print cookies we made. Thank you!
Blood Orange & Strawberry Marmalade
Who knew?
I got this marmalade for my spouse, Nancy. She thought a bit tart but I think just super flavorful with a bit of zing. Why even eat bread when you can just have marmalade!
blood orange and strawberry marmalade
Love the taste, i use it on a lot of things, even as a base on my avocado toast, use as a condiment, as a topping for appetizers. The only negative-for a small bottle, the price is quite high compared to its peers available in the market.