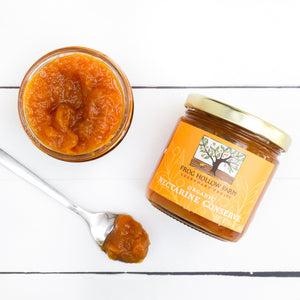 SOOO delicious!!
As a life long seeker of the best fruit cake, this takes THE CAKE! A moist and perfectly brandied version of a traditional fruit cake. Simply outstanding.
Brava nuns of New Skate!!
Wonderful!
Just FULL of half pieces of nectarines, actually HALF of the nectarine makes up these pieces. Not too sweet. Have been buying plain, no-fat yogurt for health and adding things like dried fruit and nuts and seeds to turn it into a meal. I find a tablespoon of any of the conserves will add much needed flavor to the plain taste of the yogurt and just enough sweetness. Very happy to have found this website.
Delicious
This jam is really good. So much better than store-bought jam. Tastes like fresh, real preserves from a real farm. Not too sweet. I'll buy it again for sure.
Real fruit jam
Taste great; not too sweet. Large pieces of real fruit