People Love Us
Even Oz couldn't make a plum this good!!!
They are magical. The sweetest plums I have ever eaten!
by Laurie S.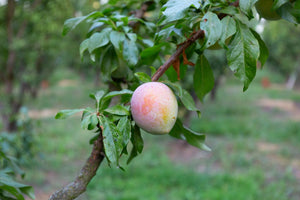 Great
Plums are sweet and juicy. Best plums ever.
delicate ,rich flavor-an unexpected treat!
The gorgeous plums arrived in pristine condition,each loving wrapped and firm.
.I gently warmed slices in a bit of coconut oil and maple syrup,added a touch of cinnamon and vanilla ,and we had them with our oats for breakfast, Fabulous!!
Beaut Plums
First time tasting Emerald Beaut Plums. They are so sweet and delicious, my new favorite plum.
Very Tasty Plums
Organic Emerald Beaut Plums have nice texture, flavor, and sweetness. They are delicious.
Outstanding
Excellent!! Firm , juicy and sweet.Wish you had more.Best Plums I've had in years.