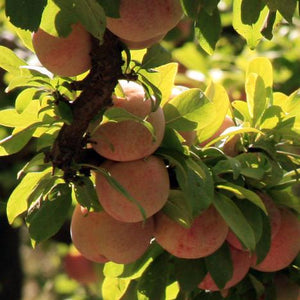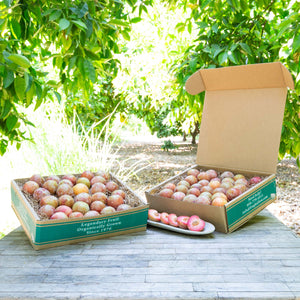 Organic Dapple Dandy Pluots are the best!
These are the best fruits my family (grandsons and their parents) have eaten.
We can't wait for the next season.
It was handled with perfection!
Fruit is beautiful!!!
Best pluots yet!
I really loved the Flavor King pluots, and then I decided to try the Dapple Dandys. I was blown away by their succulent flesh and amazing sweetness. They are so soft and juicy that they remind me of Japanese plums, but they are so firm on the outside you would never guess what's inside. I am obsessed, my first order was for three pounds and I just received my second shipment of five pounds.
First taste of a pluot
I never heard of pluots until I discovered Frog Hollow. This was my first taste. Wow!!! Wonderful blend of sweetness and tartness. Perfect texture. I loved the taste of the skin. Can't wait to try the other varieties, but this is my first love. Packaged and shipped beautifully.