People Love Us
Best cookie ever!
I was reluctant to buy these because it seemed like an odd combo to me but oh my! These are seriously the best chocolate chip cookie ever! Great crunch, buttery, high quality chocolate.....what more could one ask for. They need to offer these on a subscription basis!
by Karin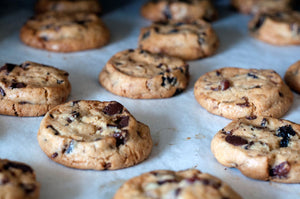 Ultimate cookie
If you like chocolate chip cookies these are light years better. The addition of the pluots
and the quality of the cookies make these a must buy.
The best cookies!
My daughter is crazy about these cookies. I buy her a tin every year for Christmas.
Dangerously delicious
What a great chocolate chip cookie. It has become a favorite. Everyone who tasted them said "WOW". I bought the little package and now I bought the tin .
Pluot Chocolate Chip Cookies
Ok but probably wouldn't order again
The granola is my favorite and the wife loved the short bread cake