People Love Us
Organic Fantasia Nectarines
Excellent! Very flavorful and juicy. Beautiful coloring. Our 2 yr. old grandson loves them as much as we do!
By Ted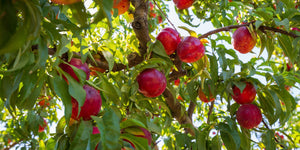 The best nectarines I have had!
These nectarines exceeded my expectations, they are so delicious! They arrived in perfect condition and also perfectly ripe. They are basically just bags of juice, bursting with sweetness and flavor. I have always loved nectarines but I am often disappointed with the ones from grocery stores, which are usually picked green and never fully ripen or develop their flavor. To have such perfect fruit survive the shipping process and deliver such high quality is a real treat. I am already looking forward to having therm again next year!
Simply the Best
The Fantasia Nectarines were delicious. Made a tart with puff pastry, brie and prosciutto.
Very sweet nectarines
These nectarines are exceptional. Love them!!!
Pluots Delicious
I received my order in a wonderfully just ripe stage and some to get ripe. Boxed carefully. Second day after receiving order and 1 box almost gone. Lucky I ordered 2 boxes. Worth the price.