People Love Us
Beautiful
"When my first order of apricots arrived, I opened the box immediately and thought, "Wow!" I wanted to just start eating them, but resisted because I had visions of lovely apricot jam. And the jam turned out perfectly - like jars of sunshine! As a few weeks passed, I was so tempted that I ordered more. So glad I did! Thank you so much for the opportunity to have organic apricots available! Brought back memories and stirred up many pleasant emotions."
by Michelle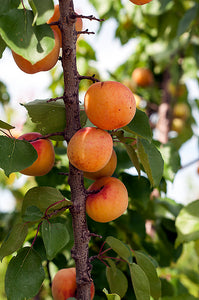 A Little Disappointed
After devouring last years perfect apricots in just a few sittings, when pre-orders open in November 2022, I immediately ordered two shipments. Although we have enjoyed the two different varieties this year, the consensus is that the flavor has been inconsistent. Some of the fruit tasted amazing like last year, but others were just ordinary. We also had a problem with spoilage that we did not have last year. Under refrigeration upon receipt, we still ended up with a several overripe pieces of fruit in both shipments that grew mold within 2-3 days. We probably should have consumed them within that timeframe, but perhaps we were spoiled by our our experience from last year when they were still edible up to two weeks later.
As usual, everything was packaged beautifully, and most of the fruit was firm and flawless. Overall, still much better than supermarket quality, but when buying from a local farmer, it should be. I love Frog Hollow Farm, and will will continue to buy fruit from them. With organic produce, sometimes you get a dud or two.
They were delicious
They are from Frog Hollow Farm, so you know what to expect: most delicious stone fruit you can find in this country!
Some arrived smooshed, but replacements were promptly sent!
Love my golden sweets
They came very well packaged and cushioned...no bruising. Worth the wait and slightly higher price for the taste of summer and of a real apricot-y tasting apricot. The real deal.
I adore your fruit and
I adore your fruit and continue to order ever since moving to the east coast. I was sadly disappointed with my recent order as over half the apricots were bruised and overripe upon arrival. The chickens enjoyed them but I would hope with the cost that I could have enjoyed them.